When it comes to making a rental unit senior-friendly, it's important to take into account the physical, mental, and emotional needs of the elderly. As a landlord, there are many ways to create an environment that supports the unique needs of seniors within your building.
In this article, we're going to go over our top tips for preparing a rental unit for seniors.
Assess the physical accessibility
If necessary, make sure to install ramps and handrails where needed. Also, make sure there are no steep stairs that they need to take. Ensure that tenants can open and close doors easily, and check the locks to make sure they can be securely opened and closed. A great tip is to replace traditional door knobs with lever-style handles, which are easier to grip and turn than knobs. Also, make sure that countertops and cabinets are easily reachable and accessible as well.
Proper lighting
Another aspect to consider to prevent falls and accidents is the lighting of the unit. Install plenty of adequate lighting and avoid glare from windows or light fixtures. Consider installing dimmer switches to create a warm and inviting atmosphere.
Common areas such as hallways and stairways should be well-lit, and landlords should consider installing motion sensor lights in areas that are prone to being dark.
Right amenities
Another step involves providing plenty of the amenities the elderly may appreciate. As such, it's important to have a fully functioning kitchen, including a stove, oven, refrigerator, and microwave. You may also want to include accessibility features like pull-out shelves or roll-out drawers to make it easier for seniors to use the kitchen. Also, you'll want to install grab bars throughout the bathroom to make it easier for seniors to get in and out of the shower and tub. If you want to go even further, you could install a walk-in shower, or a shower seat can make it easier for seniors to bathe safely.
Adequate furniture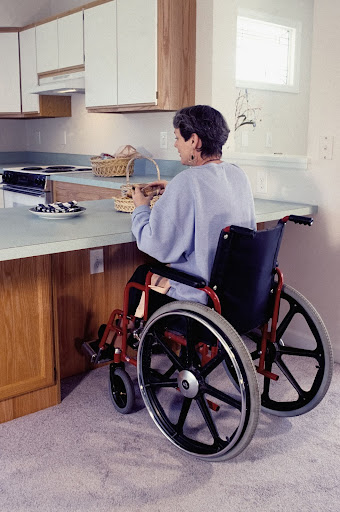 If your rental property is furnished, make sure to provide large pieces of furniture in the living area. Seniors need adequate space to sit and sleep comfortably. Providing comfortable, supportive furniture can make all the difference in the world.
Consider investing in furniture pieces that are adaptive. This means furniture that is specifically designed for seniors and other individuals with accessibility issues. This could include recliners that are adjustable and can recline as well as lift chairs that can be raised or lowered depending on the user's needs. If possible, purchase furniture pieces that have arms on them for extra stability and support.
Safety first
Another important step is to give a sense of security and safety. Install motion-sensor lights and other security features like alarms and surveillance cameras. Smoke detectors, carbon monoxide detectors, and fire extinguishers should all be present and in good working order. Provide senior tenants with contact information for emergency responders in the event of an emergency.
Remove tripping hazards
Seniors are more prone to falling, so it's important to take steps to prevent accidents. This includes fixing any loose carpets or floorboards and making sure that electrical cords and other items are not left out in the open where they can be tripped over. We also advise landlords to have non-slip flooring, especially in wet areas like the kitchen, bath, and entryways.
Good ventilation
Good ventilation is important for seniors, as it can help to reduce the risk of respiratory issues. Make sure that the rental unit has windows that can be opened to allow fresh air to circulate, and consider installing an air purifier to help remove any pollutants from the air.
Flexible lease terms
Seniors may not want to commit to a long-term lease, so consider offering flexible lease terms such as month-to-month or short-term leases.
Heating and cooling
As we age, our bodies become more sensitive to temperature changes. Ensure that the unit is equipped with a reliable heating and cooling system to keep them comfortable.
Conclusion
These are just some of the tips for making a rental unit more senior-friendly. It's important to remember that creating a comfortable and supportive environment for your senior tenants will make them feel welcomed and appreciated. With a few thoughtful modifications, you can ensure that your rental unit is senior-friendly and safe for all your tenants.
Named one of the Best Property Management Companies in Chicago, Landmark Property Management is a full-service brokerage with a reputation for going the extra mile for our clients. If you need help, have any questions, or are interested in learning from the best property management company in Chicago, don't hesitate to reach out! You can contact us at Landmark Property Management via phone at 312-313-8553 or send us an email at office@landmarkrgc.com.