According to the Chicago Primary Metropolitan Statistical, as of 2022 the median property cost in Chicago was just over $310,000 dollars. If we compare Chicago prices to a city like New York (where the average price of a property is close to 1 million dollars), Chicago is considered a bargain.
According to the Census Bureau, Chicago had the fastest-growing downtown population of any U.S. city between 2000 and 2010. Not only are millennials becoming a large part of the population, but major companies and businesses are flocking to this Midwest hub. Chicago is considered one of the richest cities, with a balanced economy and neighborhoods that present a great investment opportunity.
STRONG AND STEADY
Buying investment property in Chicago can make for the perfect real estate investment. With many prospering businesses and an affordable rental market, Chicago will continue to remain a strong and steady market for property rentals. The Windy-City is full of distinct neighborhoods and sub-cities, so understanding more about each market is important. If you're curious about renting your property, fill out our free rental analysis and we'll send you a custom market report.
BIG BUSINESS, BIG GROWTH
Chicago's O'hare Airport is currently undergoing an 8.5 billion dollar expansion. At the earliest, works won't be completed until 2028, however pieces have been delivered progressively. Terminal 5 for example is already opened to the public (more than 1 billion dollars were dedicated to this terminal). This is a huge win for corporations. Chicago once again has been crowned the top city in the U.S. for corporate expansions and relocations. It is said that 173 corporations relocated or expanded in Chicago in the past year, and 67 had done so since the start of 2022..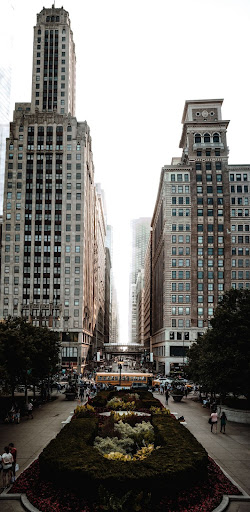 GLOBAL NETWORK
The Chicago housing market also benefits from the fact that the Windy City has one of the most diverse economies in the world. The wide range of economic sectors provide employment and income for the 2.7 million people in the area. The diversity of industry strengthens the resiliency of the city, so if one industry were to suffer, the overall impact on the economy would remain steady.
RENTAL HOTSPOT
Chicago is a rental hotspot, 53% of Chicago households are rented. Most of the property prices have remained steady since 2007, offering the most affordable value across the U.S. With that, the surrounding cities of the Chicagoland area offer a much higher ROI than most of the country. Especially in terms of cash flow, if you're comparing cities on the coasts, like LA and New York, Chicago delivers much higher margins. Cashflow investments are much safer and recession resistant than strictly appreciation investments. This means more money in your pocket, sooner than later. The median rental price this past 2021 was $1,661.
Named one of the Best Property Management Companies in Chicago, Landmark Property Management is a full-service brokerage with a reputation for going the extra mile for our clients. If you need help, have any questions, or are interested in learning from the best property management company in Chicago, don't hesitate to reach out! You can contact us at Landmark Property Management via phone at 312-313-8553 or send us an email at office@landmarkrgc.com.