Being a landlord or a property manager is a full time job. This job includes leasing, marketing, maintenance, tenants, collecting rent and much more (like dealing with tenants going to jail). According to the Vera Institute of Justice, by mid-2020 there were 1.8 million prisoners between federal and state prisons. Back in 2018, there were almost 39,000 people in the Illinois prison system alone. What would you do if one in those 39,000 was your tenant? How would you handle it?
We understand that having a renter go to jail is not something landlords are typically prepared to deal with, but it can actually happen. Your primary reaction might be to change the locks, close any access to the unit and cut off all the utilities. The second reaction would be to remove any of the belongings of the tenant. That being said, that would be the wrong course of action (there is still an active, legally binding lease).If you decide to change the locks and remove the tenants belongings, you could be guilty of a "self-help" eviction. Self-help evictions are illegal in the United States, no matter what state you live in. Here are some recommendations on how to approach this.
First, you need to double check if your tenant is in fact in jail. You need to be 100% sure that the tenant did in fact get convicted and won't be coming back any time soon. Corroborate this information with the legal department and public records (don't just trust the gossipy neighbor who always has something to say about everyone on the block!). Once confirmed, one option would be to go visit your tenant or a legal representative on their behalf. It's possible that the tenant would like to free themself of the financial burden and will gladly sign paperwork terminating the lease. If that is the case we would recommend specifying what happens to the tenant's belongings and also getting the document notarized.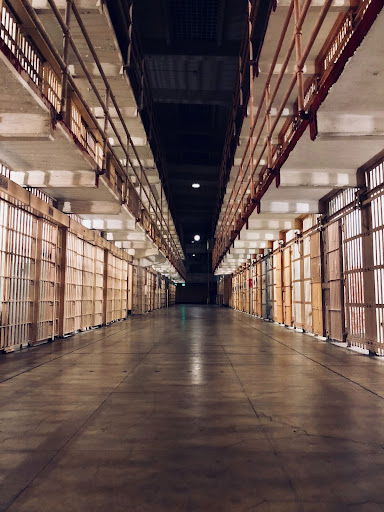 If things don't go as smoothly, the second option would be to file for eviction. Every state has different guidelines to evict tenants, so make sure you are following the correct ones. An eviction would return possession back to you but keep in mind that evictions are not cheap and will take a lot of time, paperwork and patience. Trying to serve an inmate in a timely manner for their court dates may be difficult.
A third option would be to file for abandonment, which is sometimes an easier and cheaper route than filing for eviction. It is considered "abandonment" when a tenant moves out from one day to another without any notice. If you follow the corresponding legal procedure from your state, you will be able to save some money and speed up the process. Part of filing for one is to have proof of non-payment and that the tenant is no longer living there.
The best way to protect yourself? Lean on the experts by seeking legal advice from a real estate attorney, as soon as possible.
If you are currently living in Chicago you can check if your tenant is in jail clicking on the following links.
If you need help, have any questions, or are interested in learning from the best property management company in Chicago, don't hesitate to reach out! You can contact us at Landmark Property Management via phone at 312-313-8553 or send us an email at office@landmarkrgc.com.