mperatures are getting lower, mornings are getting colder and we can feel how winter is just around the corner. As a property management company in the Greater Chicago Area, we know how difficult winters can be not only for tenants, but also for owners. As many Chicagoans have noticed, winter is here. The National Oceanic and Atmospheric Administration (NOAA) recently released their winter weather for the upcoming season. It states that winter will be colder and drier than normal, with the coldest temperatures starting late November all the way to Mid-February. Chicagoans will be seeing normal snowfalls except for some places south of the Lakes with "much-above-normal" snowfall.
With this, every landlord and property management company should be aware of what is expected of them. What are the requirements needed to keep your current and future tenants warm? What is the correct temperature for renters to have? Who is in charge of paying the utilities; renters or owners?
MINIMUM HEAT REQUIREMENTS
The Chicago Heat Ordinance establishes that renters that don't have the control to heating, must have an operating heating equipment provided by every landlord in the State (during the winter months). This heating equipment must provide a minimum temperature of 68 degrees between 8:30 a.m. to 10:30 p.m and 66 degrees from 10:30 pm to 8:30 am, starting from September 15 each year to June 1st.
HEAT IS AN ESSENTIAL SERVICE
Heat is considered an essential service that every property owner needs to provide to tenants. To avoid families going without heat during the colder Chicago months, if the weather forecast predicts that the temperature will be at 32 degrees Fahrenheit or lower, it is considered illegal to disconnect utilities from Dec1st to March 31st.
BILLING
Who is responsible for paying for heat? Everything needs to be stipulated in the lease agreement. According to Chapter 5-16 of the Chicago Municipal Code the landlord needs to disclose whether the tenant is paying for the utilities and attach a statement from the heating utility company disclosing the energy consumption over the preceding 12 months. In the case that an apartment complex has a central heating unit, no cost disclosures are necessary.
EVICTIONS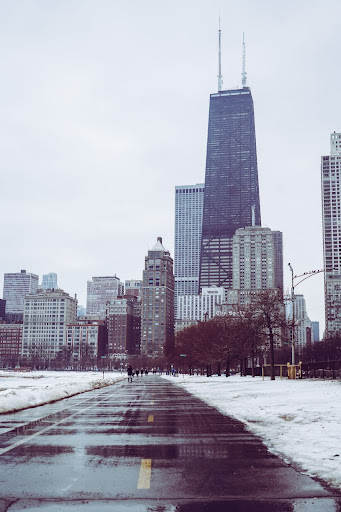 Some Chicago renters believe that during winter months, evictions are not possible but the courthouse is never closed to evictions, no matter the weather. However the city's temperature can impact the order for possession by the Sheriff. For example, the Sheriff can be instructed to avoid eviction when the temperature is 15 degrees Fahrenheit or colder (often referred to as an eviction moratorium). Evictions can also be temporarily paused if the weather is so extreme that it can be life threatening like a blizzard. If you live in Cook Country, the sheriff's office is closed during the holiday season, from December 17th to January 2nd.
FINES
Property owners need to be on top of their investments. If any tenant (that can't control the thermostat in their unit) decides to measure the temperature 3 times a day, for a whole week, and it is below the bare minimum, they can demand to raise the temperature. They are even entitled to calling 311 for a building inspection, and no one wants that. Landlords can get fines of up to $1,000 per day, per violation, for each day they do not supply adequate heat. Therefore, if the renter's radiator stops working in the middle of December, and there is no quick response by the owner, they can face hefty fines that rack up to thousands of dollars in the matter of days.
In conclusion, since heat is considered an essential service, owners must have the correct equipment to produce heat and hot running water. It also needs to be clearly stipulated in the lease who is going to be responsible for paying it. Evictions are possible given the temperatures and weather conditions are not life threatening. There are minimum temperatures required and if they are met, property owners can face fines of up to $1,000 per day.
With years of expertise, these are some of our recommendations:
Respond in a timely manner

Keep the heat on, even though the unit is vacant so the pipes don't suffer any damage

Perform preventative maintenance on your furnace/boiler to avoid issues.

Make a record of the utility provider in case there is a service interruption

If there is, maintain constant communication with your tenants.

Hire a property management company!


Named one of the Best Property Management Companies in Chicago, Landmark Property Management is a full-service brokerage with a reputation for going the extra mile for our clients. If you need help, have any questions, or are interested in learning from the best property management company in Chicago, don't hesitate to reach out! You can contact us at Landmark Property Management via phone at 312-313-8553 or send us an email at office@landmarkrgc.com.