If you are in the process of selling your home, every opportunity to make a sale should be taken seriously. It is very important to glam up your property. Ensuring that it looks as good as possible for potential buyers should be your primary goal. Some sellers underestimate the incredible power of home staging.
Now, what exactly is home staging? According to Oxford Languages home staging is the "activity or practice of styling and furnishing a property for sale in such a way as to enhance its attractiveness to potential buyers." According to the National Association of realtors 47% of buyer's agents said "staging a home made it easier for a buyer to visualize the property as a future home," meaning first impression matters. Don't worry, it doesn't have to be expensive!
Here are some of Landmark's Property Management's favorite home staging tips:
Clean, clean, clean
Everyone knows the importance of decluttering spaces. Remember open spaces, brightness, airyness is what sells, so start by cleaning cluttered areas so they look bigger. Families tend to accumulate a lot of stuff throughout the years without even noticing it. Pay close attention to windows that are being blocked. Confirm that buyers can walk freely without bumping into furniture.
When we talk about cleaning, do it thoroughly, (we mean it). Go through every small corner and clean like you have never cleaned before. Think of areas you normally neglect to clean: inside closets, inside the refrigerator, behind doors etc. Remove any signs or pet smell. Imagine you are the one moving to a new home and don't know who was the last person to use the toilet. Exactly - that is what we mean by deep cleaning.
Add plants
Plants and flowers are always a good idea. Freshen up some spaces by adding indoor plants and beautiful flowers. Keep it simple, you don't want buyers to walk into a jungle. Having extremely bright colors can even be uncomfortable for potential buyers, so keep it as neutral as possible. Adding these decor can make the environment look more healthy. Space them out throughout the different living areas and bedrooms. We recommend succulents. If you don't have enough time to water the plants, there are amazing quality fake ones that can do the trick.
Stage only the important areas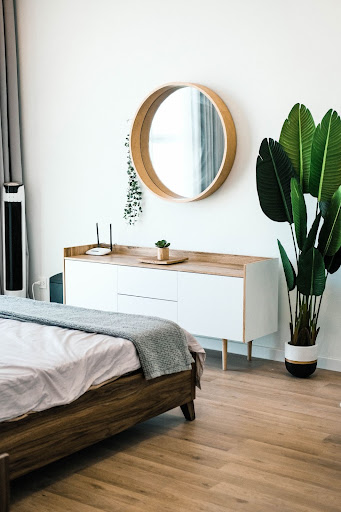 According to NAR 46% of buyers confirmed that staging the living room was crucial and very important in the process of buying a house, 43% believed the master bedroom is important and only 35% believed staging a kitchen is crucial. So this means that not all the house needs to be staged. Remember you are trying to sell a home with the minimum investment, so only focus on what matters.
As the NAR's study shows, direct your budget and time towards the living room, master bedroom and other large living areas. Make the other rooms look as presentable and nice as possible.
Remove family pictures
You want potential buyers to feel a sense of home and familiarity; to picture themselves living in your property. We highly recommend you remove all personal items. Take down pictures and remove kids' drawings. Take down any magnets or sticky notes placed in your refrigerator and verify your clothes are out of sight. Somehow seeing someone elses clothing in your future home disrupts the whole "buying vibe". Bathroom counters should be clean; remove hair brushes, face creams, toothbrushes etc. Leave just a few pillows on the couch. Let us warn you that living on an empty canvas will not be very comfortable for you but just remember it is temporary!
Don't forget that correctly staging a home can help your home sell faster and for more money. Applying some of these tips will ensure that buyers walk into a friendly space, with great lighting and a sense of home and familiarity. Staging a home can really help paint a correct picture in the buyer's mind.
If you have any questions don't hesitate to give us a call at 312-313-8553 or email us at office@landmarkrgc.com.