Chicago is one of the most beautiful cities to take a walk in; the architecture of the city is like a walk through history. It was after the Chicago's Great Fire of 1871 that it had to be rebuilt. Fires burned the whole city for three complete days and the frame buildings (built from wood) vanished. Thus, Chicago's architects started evolving to fireproof buildings and skeletal steel construction.
This city has been a birthplace of the most iconic and innovative buildings in the United States. However, it does face many construction restrictions like limited land space and high winds. Many of the developers had to establish new processes to create taller, but still sturdy buildings.
The list is very long, however here are 7 iconic, history-making examples of Chicago architecture.
Willis/Sears Tower
The Willis Tower, (once Sears tower) is a 110-story 1,2450 foot skyscraper built in 1973. It is one of the most recognized buildings not only in Chicago, but around the world. Its height surpassed the World Trade Center in NYC from 1973 to 1998. This building was initially used as the central offices for Sears Roebuck and Company and costs about US$150 million (around $860 million in 2021 money) to build. This tower has the highest observation deck in the country.
Tribune Tower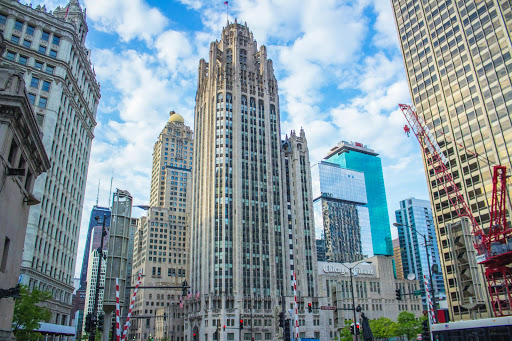 The Tribune Tower was completed in 1925 and to this day is one of Chicago's Landmark buildings. Its original standings were affected by the Great Chicago Fires. The uniqueness of this building is its neo-gothic design. It is currently under construction once again to create 162 new luxury condominiums.
Civic Opera House
This Chicago building has both Art Nouveau and Art Deco styles and it was designated as a Chicago Landmark in 1998. The size of this building covers an entire block, and is a 45-story main building plus two 22-story winds. It is the second largest opera auditorium in North America with 3,563- seats. It is definitely an impressive architectural building!
Chicago Board of Trade Building
This Art Deco skyscraper is one of the most historic buildings of the city and it was the tallest building from 1930 until 1965. This 45-story building is in Chicago's financial district and it has served as the primary trading venue of the Chicago Board of Trade (CBOT). It currently homes a variety of offices and retail spaces for different industries and businesses.
Wrigley Building
The Wrigley building was completed in 1920 and it is one of the city's most recognizable buildings. It was originally built as headquarters of the Wrigley Company, the largest producer of chewing gum products in the world. It was the first major commercial building north of the Chicago river and it's also considered as one of the largest terracotta skyscrapers in the city.
Aqua Tower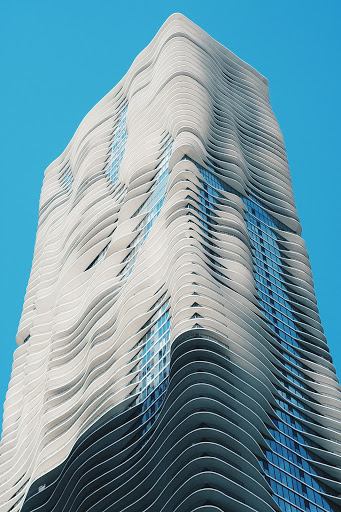 Finished in 2009 this 82-story skyscraper had a cost of $300 million USD and it is home to a hotel, offices, rental apartments, condominiums, and parking. This building has one of Chicago's largest green roofs. The unique aesthetic of its balconies resemble a waterfall and make it an eye catcher.
Merchandise Mart
This commercial building, also referred to as "The Mart", was the largest building in Chicago (surface area) with around 4 million square feet in floor space when it was originally built. The total cost of construction was $32 million dollars in 1930 ($484 million USD in 2021). Its initial operation was to be a wholesale warehouse store for Marshall Field. Today, it is still a showcase venue and an office space for different tech companies.